I AM
Dayna Seraye, teacher, artist, priestess, healer and facilitator of transformational experience based in Boulder, CO. My work is devoted to cultivating the path of the heart through the sacred body temple. I have been a student of healing and shamanism from a very young age and have immersed myself in the practice of sacred embodiment and yoga for more than 20 years. I work with individuals and groups to access and clear emotional blockages and limiting beliefs from the subconscious (aka social programming), that are at the root of physical and emotional challenges. Weaving together yoga and embodiment practices, healing ceremony and ritual, the Lifeline Technique™, the Hakomi Method of Somatic Psychotherapy, Holistic Health Coaching and intuition, I offer tools to help people heal from the inside out.
For over 15 years I have lead groups, ceremony, workshops and retreats nationally and internationally, and I especially enjoy support women to connect with nature, their bodies, and deep soul truth. I have been greatly inspired by my teachers Melissa Michaels of Somasource® and Sofia Diaz, my first hatha yoga teacher. My path of devotion led me to be officially ordained as a Priestess of Isis in 2013. I am blessed to be the mother of my incredible 12 year son Joshua, who is my greatest teacher. I adore our shaggy puppy, long mountain walks, spontaneous dance parties, and all things green.
A little more of my story…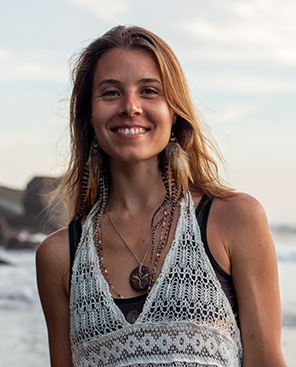 I have experienced the epic journey of the wounded healer. I have been brought to my knees time and time again in the mysteries. I have seen, felt and transformed my shadow places and claimed my power through birthing the light.
This is my practice. It is a life-long practice.
With each turning of the Wheel of the Year I learn and experience many new things. The spiral takes me ever deeper on the path of my soul's unfolding and evolution. It takes me ever deeper into my devotion as a priestess in service to the Goddess, to the Mystery, to the One.
This chapter of my journey began with a power dream…
In the dream I was with my sisterhood many lifetimes ago. We were underground, and knew that persecutors were coming for us. We fled and scattered to the four winds. I sucked my energy into a tight little ball and escaped down a heat vent. I traveled through the vent for a long time, and the rest of the dream I experienced what seemed like different lifetimes of fleeing from this oppression. I had a spirit friend, a leprechaun being, who kept appearing to remind me of the situation and warn me of danger. The last scene of the dream I was in a shopping mall in a store, in modern times. I looked down and saw my leprechaun friend, and woke up.
I WOKE UP.
I realized that the mostly unconscious pattern of keeping myself small and hidden had probably been with me (and perhaps all of you who find yourself reading this) for lifetimes. I also realized that in this lifetime, it was no longer necessary to keep my energy in a tight, little protective ball. It was no longer my story.
It was time to shed the layers of habitual fear and grow into my fullness as a powerful, radiant, and gifted medicine woman…healer…teacher…priestess…embodiment of the Divine Feminine.
I am here to help you do the same. Blessed be.